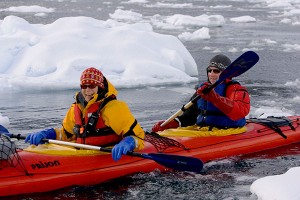 Some, or all, of the extras noted against each trip may be available on your voyage at an additional cost and can only be booked prior to departure. All the gear you need is provided.
Some Extras require no previous experience while others will require some level of experience to participate. Contact us for further details and please ensure you book early as space is limited.
Sea Kayaking

Explore the serene crystal clear waters away from land and the ship. Sea kayaking allows you to experience this magnificent destination in a completely different way – at sea level.

Note: There is an extra charge for this optional activity.

Camping

Snowshoeing

Walk atop fresh snow and discover remote valleys and hidden places inaccessible by foot.

Mountaineering

Geared towards the more adventurous

passengers, mountain climbing in Antarctica is a special memory that will last forever. Mountaineering adventures are full-day activities that can last up to 5 hours and offer a truly unique experience.

Note: There may be an extra charge for this optional activity on some voyages.

Cross Country Skiing

If you love cross-country skiing, why not experience it on pristine Antarctic snow?

All you'll hear will be the sound of your skis gliding through the fresh snow as you explore your environment, just like the explorers of old.

Note: There may be an extra charge for this optional activity on some voyages.
When booking please tell us your activity of interest. We can advise which Extras need to be pre-booked and require experience.
NOTE: As indicated, it is the aim of each operator provide each activity as planned, but it must be noted that each activity is dependent on favourable weather and ice conditions.