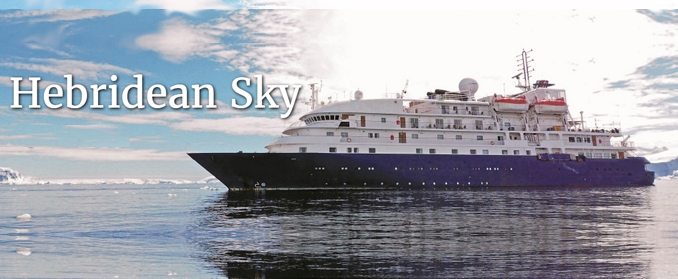 Vessel Type: Expedition
Length: 90 metres
Passenger Capacity: 110
Built: 1992 – newly re-launched 2016
The Hebridean Sky (formerly the Sea Explorer) underwent a 6.5 million dollar refurbishment. Always  known for its effortless elegance, impeccable service and atmosphere of charm and camaraderie, the Hebridean Sky continues that tradition adding a host of new amenities as well as state of the art stabilization, fuel efficiency, and upgraded communications systems. Its all-suite accommodations and increased adventure options make the Hebridean Sky the perfect blend of luxury and adventurous exploration.
SPACIOUS SUITES
Hebridean Sky is an all-suite yacht accommodating up to 110 guests. Built in 1992, refurbished 2014 and again in 2016, each suite features:
• Exterior views
• Your choice of queen-sized or two twin-sized beds
• Sitting area with sofa and side chair
• Flat Screen TV with DVD/CD player
• Telephone
• Independent temperature controls
• Mini-Bar
• Marble-appointed bathroom with fine toiletries
• Hair dryer
• 220 square feet or more
• Sofa can be converted to bed for third person
In adition Promenade, Deluxe, Veranda & Penthouse Suites include:
• En suite Champagne & Chocolates on Arrival
• Complimentary mini-bar (beer, wine & soft drinks)
• $100 per person Gift Shop credit
• En suite Nespresso machine
Penthouse Suites (325 sq.ft.) and Veranda Suites (260 sq.ft.) feature private balconies.
ONBOARD DINING
Great expeditions require great food! The team of world-class chefs offer breakfast, lunch and dinner menus that change daily. They have boat-loads of creativity, so you are sure to experience a variety of remarkable cuisine throughout your voyage.
SERVICES
• World-Class Cuisine
• Complimentary Wine with Dinner
• Live Entertainment
• Complimentary Coffee/Tea station
• Voyage Photographer
• On-board MD and Facilities
• Dedicated Passenger Service Manager
• Pre-voyage hotel night
• Complimentary Expedition Jacket
FACILITIES
• Elevator serving all passenger decks
• Upgraded WIFI Internet
• Library with computers
• Panoramic Top Deck Observation Platform
• Bar/Lounge with Live Entertainment
• Boot Room
• Lounge with Audiovisual Facilities
• DVD Movie Library
Deck plans may very depending on the ship operator.