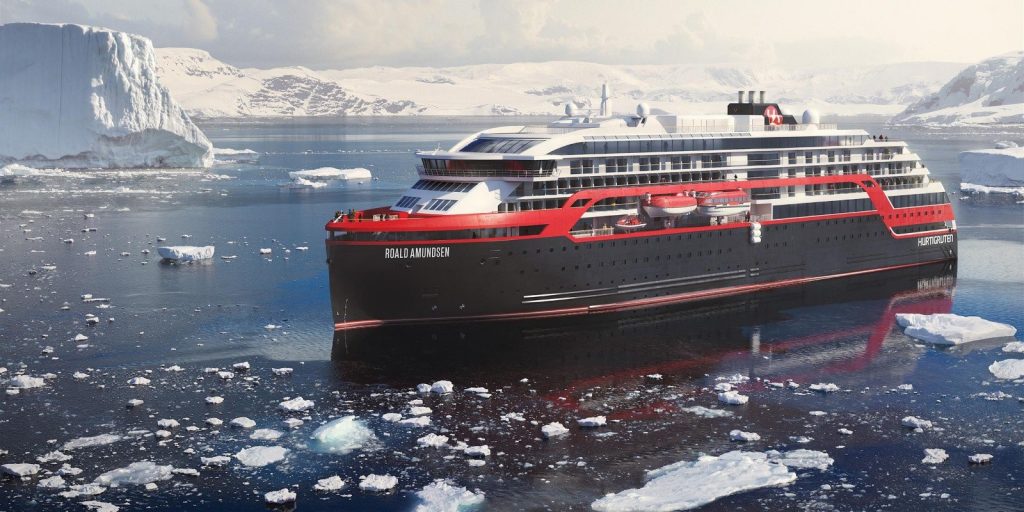 Passenger capacity 530
Launched in 2018, The state of the art vessel features new and environmentally sustainable hybrid technology that will reduce fuel consumption and show the world that hybrid propulsion on large ships is possible.
MS Roald Amundsen is the first of two hybrid ships to be launched in 2018/2019, cutting emissions by sailing with electrical propulsion. Hybrid technology, combined with the advanced construction of the hull and effective use of electricity on board will reduce fuel consumption and CO2-emissions on the ships by 20 percent.
The future of shipping will be silent and emission free. MS Roald Amundsen will lead the way towards an even more sustainable way of traveling. Sailing on electrical power is not only a great benefit for the environment, but it will also enhance the impact of experiencing nature for the guests. The ship will be specially constructed for voyages in polar waters and serve as a comfortable basecamp at sea – bringing adventurers from all over the world to the most spectacular destinations in the most sustainable way.
These ships combine state-of-the-art technology together with a premium onboard experience. All cabins are outside, half have private balconies, and aft suites even boast private outdoor Jacuzzis, to soak up the stunning scenery in style.