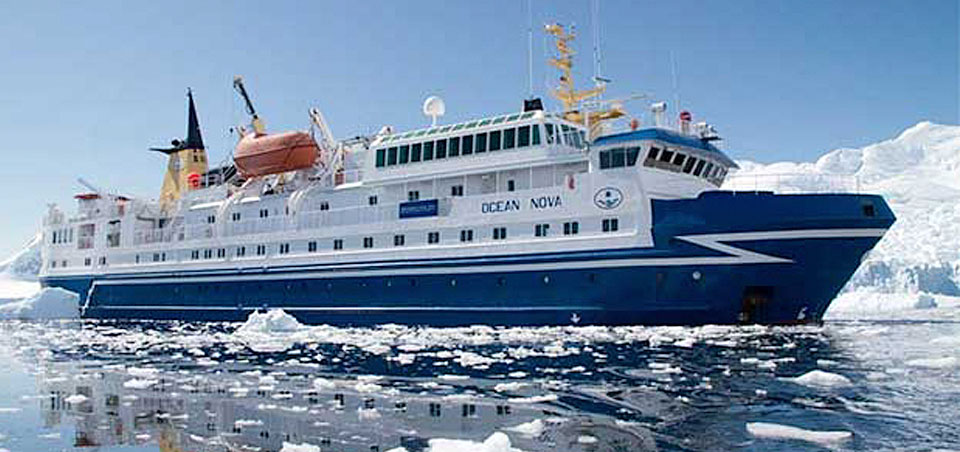 Vessel Type: Expedition
Length: 73 metres
Passenger Capacity:86
Built / refurbished: 1992 / 2005
The ice-strengthened expedition ship Ocean Nova was built in Denmark in 1992 with high ice class to serve Greenland's west coast. In 2004 to 2005 she was completely refurbished and has now a career as a small and comfortable expedition ship. The Ocean Nova accommodates 86 passengers in single, double and triple cabins, all with sea-view and private facilities. The double cabins have either two lower beds or upper and lower beds. The triple cabins have upper and lower beds. In your cabin you will also find a desk with chair and ample storage space for clothes and equipment.
In the dining room you are treated to delicious meals in between landings and in the panorama lounge you can enjoy a drink with a breathtaking view of the surrounding polar landscape. This is where PolarQuest's on board specialists entertain and educate you with lectures on polar biology, history, geology and conservation. There is also a library with panoramic views and a good selection of polar books. On board there is a satellite phone, gym and medical doctor. Passengers are welcome on the bridge around the clock and there is always something to see or search for from the spacious observation decks. The ship has North European officers and there is a friendly and informal atmosphere on board. Travelling with this small expedition ship offers an entirely different experience and perspective than you can get on a larger and more conventional cruise ship.
Ice Class: Ice 1B, E0 (Hull Ice 1A)