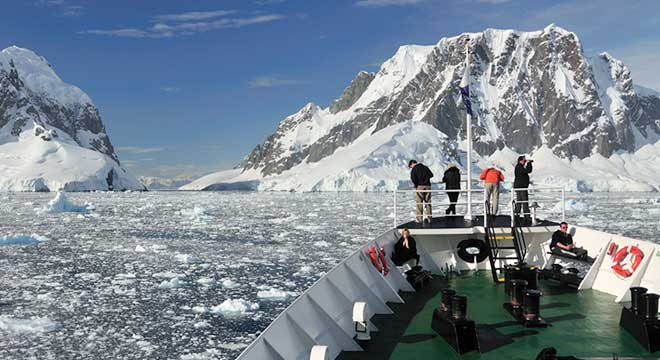 Throughout the voyage there will be series of onboard educational lectures by historians, naturalists and photographers.
These same experts will then escort you on as many zodiac landings and cruises as possible,  to get up close to the many species of penguin, seal and seabird colonies.
There will be opportunities to go hiking, mountaineering, cross country skiing or sea kayaking. It can be as active or inactive as you want it to be. No activity is compulsory
At the end of each day you will enjoy a recap of the day's events, a fantastic dinner, great conversation and perhaps a glass of wine, as you reflect on another incredible day.
No two voyages will be the same and flexibility is an important part of each expedition. Your expedition leader works with the ship's captain to monitor the weather and ice conditions to ensure your safety and deliver the best experience possible.
Talk with our Polar Adventure Consultants – many have been on an Arctic voyage themselves and will love to share their insider knowledge (check out Matt's slideshow). Better still take a moment to read some of the testimonials given to us by Back Track Adventures' clients who have journeyed to this remote and beautiful corner of the world. Please contact us for more information.
Social Share