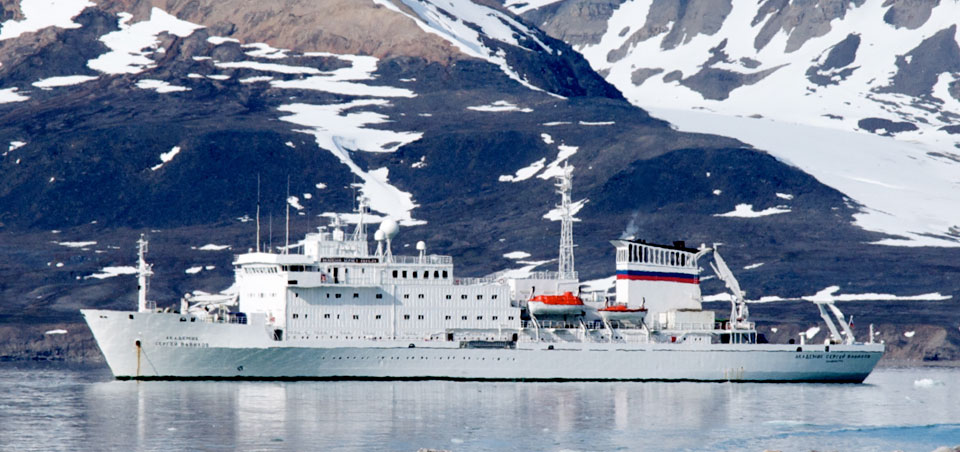 Built in Finland in the late 1980s for the Russian Academy of Science, Akademik Sergey Vavilov's original mission was to perform sensitive hydro-acoustic ocean research. She is the sister ship to Akademic Ioffe.
The Vavilov is exceptionally quick, quiet and stable. She is recognised as one of the finest expedition ships to ever sail the polar seas.
The observation lounge and bar on the top deck is a comfortable place to meet and mingle. External stabilizers and a built-in trimming system provide exceptional stability.
All cabins have exterior views
One dining room with unreserved seating
Lounge and bar, open in the afternoon until late evening
Library with a collection of polar-themed books
Ship-to-shore communications via satellite
Clinic with licensed doctor
Exercise room, sauna and plunge pool
One elevator between decks 1 and 5

Main Deck Triple Share – Located on Deck 3 these cabins have bunk beds and a sofa bed. Facilities are shared. There is a washbasin with cold/hot water in the cabin, a writing desk/chair, in-room clock radio with ipod connector kit, and ample storage space. All cabins have a porthole.
Additional features and amenities:
OOE Logoed Bathrobes

Twin Semi-Private – Located on Deck 4 these cabins have one lower berth and one sofa bed, a writing desk,in-room clock radio with ipod connector kit and ample storage. Facilities are semi-private (one bathroom between two cabins). All cabins have a window which opens.
Additional features and amenities:
Toiletry kit
Hairdryer
Coffee/tea maker
OOE Logoed Bathrobes

Twin Private – These cabins are located on Deck 4 and 5. All cabins have two lower berths, a writing desk/chair, in-room clock radio with ipod connector kit and ample storage. Facilities are private and all cabins have a window which opens.
Additional features and amenities:
Toiletry kit
Hairdryer
Coffee/tea maker
OOE Logoed Bathrobes

Superior – Located on Deck 3 these cabins have two lower berths, a writing desk/chair, in-room clock radio with ipod connector kit and ample storage. Facilities are private and all cabins have a port hole (one of which opens).
Additional features and amenities:
Toiletry kit
Hairdryer
Coffee/tea maker
Vanity kit
Upgraded bed linen/duvets
OOE Logoed Bathrobes

Shackleton Suite – These cabins are located on Deck 4 and 5. All cabins have one double berth, one sofa bed, separate sleeping quarters, a writing desk/chair, ipad with polar literature and access to various media, IPod Dock Alarm Clock. Facilities are private and all cabins have windows, which can be opened.
Additional features and amenities:
Upgraded bed linen/duvets
CD player/mini stereo system with connection for Ipod™/mp3 player
Use of our CD selection
Mini bar/ice bucket
Hairdryer
Coffee/tea maker
Toiletry kit
Vanity kit
OOE cotton luxury logoed bathrobes
Arrival gift basket with healthy snacks and a bottle of wine
Binoculars and wildlife reference book

One Ocean Suite – Located on Deck 5 this cabin has a double berth, one sofa bed and separate sleeping quarters, up-graded bedding, a writing desk/chair, ipad with polar literature and access to various media, IPod Dock Alarm Clock and IPod Speaker System for main room. Facilities are private and have a bathtub. This cabin has windows overlooking the bow, which can be opened.
Additional features and amenities:
Upgraded bed linen/duvets
CD player/mini stereo system with connection for Ipod™/mp3 player
Use of our CD selection
Mini bar/refrigerator
Hairdryer
Coffee/tea maker
Toiletry kit
Vanity kit
OOE cotton luxury logoed bathrobes
Arrival gift basket with healthy snacks and a bottle of wine
Binoculars and wildlife reference book

Staff and Crew: 63
Guests: 96
Lifeboats: 2 fully enclosed
Length: 117 m
Breadth: 18.2 m
Draft: 6 m
Propulsion: Diesel: Twin Engines 5,000Kw diesel, twin propeller
Ice Class: 1D
Cruising Speed: 14.5 knots in open water
Registered: Russia