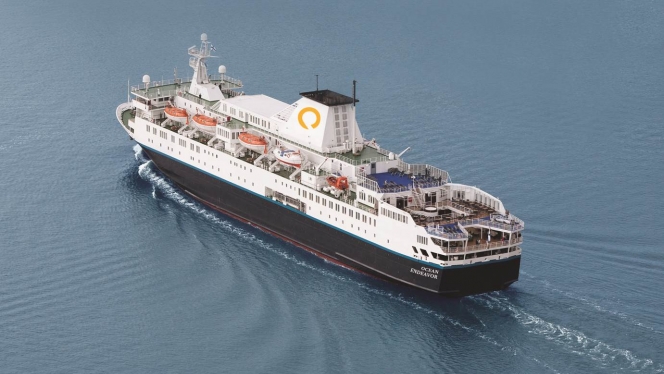 Ocean Endeavour is a comfortable, well-appointed small expedition ship expertly engineered to explore the Polar Regions. The ship has an ice-strengthened hull, Zodiacs for exploration and remote landings, generous deck space and advanced navigation equipment.
The ship offers a superb guest experience with a nautical lounge, two restaurants, sundeck, and plenty of deck space for observation of polar landscapes, and lounges for learning and reflection. The ship's interiors have a contemporary aesthetic that provides a bright and spacious feel to the cabins and common spaces.
Endeavour is also the only polar adventure ship in Antarctica focused on health and wellness. From the newly-built saunas, to the pool, gym, hot tub and wellness café with a juice bar, the ship will offer guests onboard services and amenities that that will enhance their Polar expedition experience. The ship also has a Polar Boutique, where guests can buy gifts as well as gear they might need for the voyage.
Electrical Supply: 220 volts, 50 Hz
private washroom facilities
Radio
TV

Two restaurants
Nautical lounge
Polar library
Gym
Newly built saunas and spa facilities
Wellness café
Lecture Theatre
Polar Boutique
Sundeck and plenty of deck space for observation

Staff and Crew: 124
Guests: 199
Lifeboats: 6
Length: 137 m
Draft: 5.6 m
Ice Class: 1B
Cruising Speed: 15 knots in open water
Registered: Marshall Islands
Ocean Endeavour Interior Photos